Five years is far too long to wait for a new alternative route through the Manawatu Gorge, Ross I'Anson of the New Zealand Transport Agency told a meeting in Woodville.
About 300 people turned out for Tuesday night's meeting to have their say on the 13 proposed options and Mr I'Anson, NZTA regional transport manager, said he wanted a three to four year time frame for the road.
"We are committed to building this in the quickest time possible," he said.
"There are absolutely no winners at the moment and we are at the point now where we don't have a road and we have to put something in place quickly.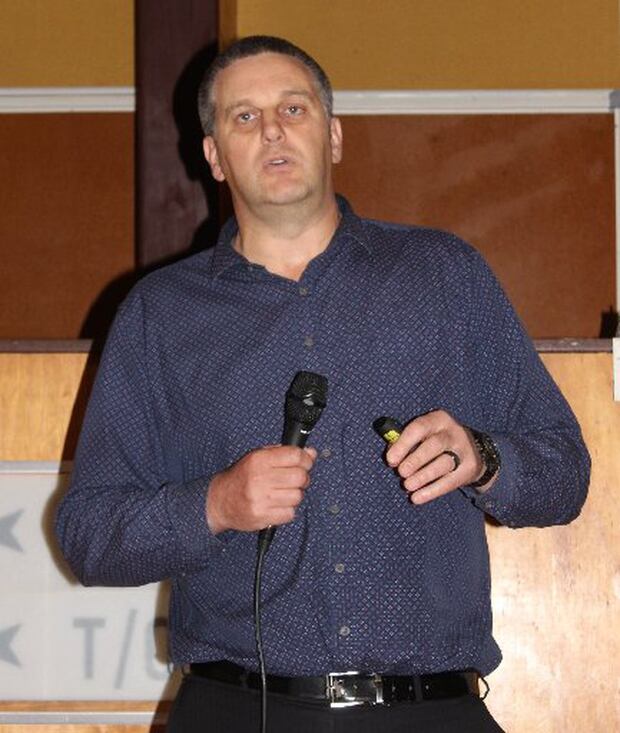 Ross I'Anson, regional transport manager for the New Zealand Transport Agency answering questions in Woodville on Tuesday night.
"The process so far has taken just three months, normally it would take 18 months."
Mr I'Anson also reassured people money wasn't an issue.
"We've had the election and the money is still there," he said.
"We want value for money, not the cheapest option, but the best option for economic development.
"We're scrambling to get this done and we will have a short list of three to five preferred options ready for public open days on October 11 and 12 and plan to have the best-performing option by mid-December."
Ashhurst residents Elizabeth, left in pink, and David Thompson were shocked to learn one of the gorge optional routes would go through their home of nine years. Photo / Christine McKay
However, at this stage Mr I'Anson said NZTA didn't have pricing for any of the options.
When asked by the Dannevirke News if all people affected by the 13 options had been consulted, Mr I'Anson said his team had made phone calls, door-knocked or letter dropped to all owners on the property register.
However, before the meeting, Ashhurst resident Elizabeth Thompson said she and husband David were stunned to be told by neighbours on Tuesday that one option would go through their property – their home of nine years.
"It's going to get hot in here in a moment in more ways than one," she said.
The couple live in Wyndham St in Ashhurst and the first they knew of the option through their property was at lunchtime on Tuesday.
"At 1.30pm on Tuesday, a neighbour came to me and said my house is going to disappear, there were six or seven of us in our street who hadn't been notified by NZTA," Mr Thompson said.
Mr I'Anson agreed that was poor.
Woodville's Murray Kirk, who lives on Old Gorge Rd, also told the Dannevirke News NZTA staff visited him and handed over a letter at 2pm on Tuesday.
"I was given the name of a communications person in NZTA and told to come to this meeting tonight," he said.
As the business-case team, which includes Tararua District deputy mayor Allan Benbow, begin analysing the 13 options, Mr I'Anson said working at the fastest possible pace the team would come up with design, consenting and construction options for the preferred new route early next year.
With many people in the audience suggesting they wanted the short tunnel option first proposed by Mr Benbow, Mr I'Anson said the NZTA would need to work out where that tunnel would start and end.
"There are still slips at Barney's Point and we need a resilient road," he said.
Manawatu Gorge replacement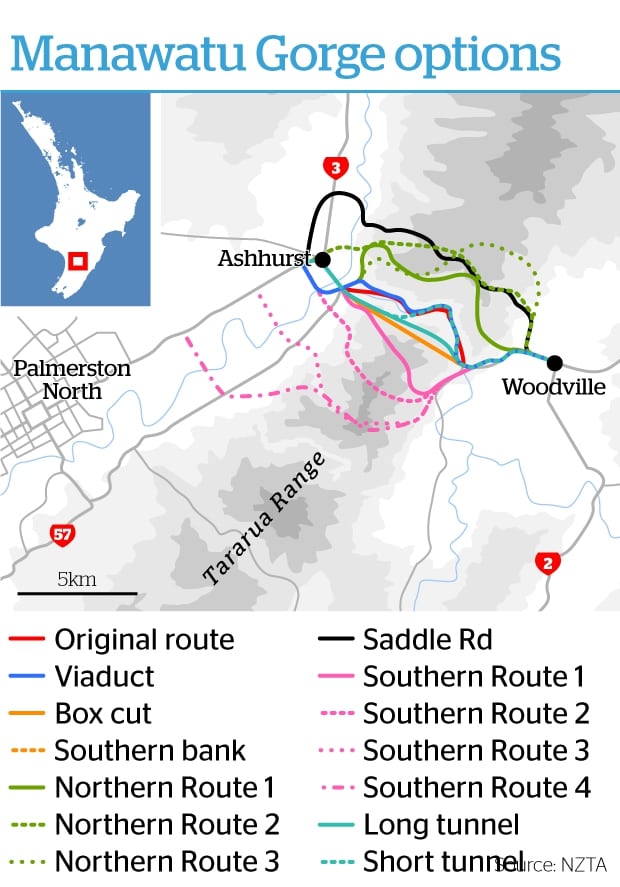 • 7500 vehicles used the gorge daily, with traffic growing, until it closed in April. Some 13 per cent were heavy vehicles.
• Four of the 13 options traverse the Ruahine Ranges, four cross the Tararua Ranges, two go through the existing gorge, there is also a viaduct and two tunnel options.
• Route distances range from 6km to 19km.
• Most options will require a bridge.
• Northern options have a gradient of between 6 and 7 per cent, and for southern options 8 per cent.
• Currently all options over the ranges will go through a windfarm.
• The NZTA is trying to develop an option which will bypass windfarms.