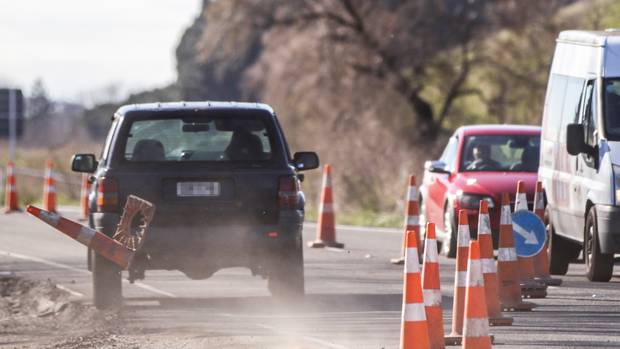 We're going to be Aotea-road-cone for many years to come, writes Peter Williams. Photo / File
If you love statistics, here's a few which might raise your eyebrows.
From September 1 last year to August 31 this year the number of cars and vans on New Zealand roads increased by 105,970.
In the year before that, the increase was 120,939.
I'll do the sums for you. There are 226,909 more cars and vans on the roads around the country now than at the time of the Rio Olympics.
Every day for the past two years, that's another 311 cars and vans spilling off the car yards onto our roads and into the traffic jams.
No matter what politicians try to tell us about public transport, the reality is we love our cars, and other machines on wheels, too.
The most recent numbers from the New Zealand Transport Agency reveal there are 5,172,482 registered vehicles in New Zealand. Sure, that number includes tractors and trailers too, but there are still 3,371,584 cars and vans registered, as well as 712,824 trucks and utes.
That's more than 4 million on-road vehicles, essentially one per person of driving age, a number not going down anytime soon.
So we need roads, plenty of them – and we needed them yesterday.
Why, then, do we take forever to make decisions about what to build, and then why does it take so long to actually do it?
In the past nine years, I've driven between Tauranga and Auckland more times than I care to remember. I feel very acquainted with State Highways 1, 2, 27, 29 and the Tahuna-Ohinewai road, depending on which route I take on any particular day.
Without doubt, the most infuriating road is State Highway 1.
What is now called the Waikato Expressway may have been designated a Road of National Significance in 2009, but it had its beginnings with the Pokeno bypass in the early 1990s.
There wouldn't have been a day in the past 25 years when some part of the Auckland – Hamilton road hasn't had choking roadworks. Currently, it's at Longswamp, near Hampton Downs.
Is that really good enough on what is the busiest part of the country's main arterial route, the busiest side of the so-called Golden Triangle?
The signs and the websites suggest that road will be finished by 2020.
But even allowing for the piecemeal start with the Pokeno bypass all those years ago, is it really acceptable that a major highway, admittedly about 100km long from the Bombay Hills to south of Cambridge, takes more than 20 years to build?
I have no expertise in roads, apart from driving on them. But in my lifetime, there are countless examples of short-term thinking by politicians when it comes to roading.
Who can forget the Auckland Harbour Bridge debacle, originally built with just two lanes each way? The famous "clip-ons" had to be added inside 10 years.
What about the original Tauranga Harbour Bridge? It was way too small very early in its life, yet it took 21 years before a second one was in place alongside. Even the Waterview Tunnel, undoubtedly the best roading infrastructure built in the country this century, was canned by Steven Joyce and the National government in 2009 before common sense finally prevailed.
The vehicle rego numbers do not lie. Apart from aeroplanes, we are not a public transport country. We like the convenience of roads and we love owning and driving cars.
That's why roads, in and to the busiest and fastest growing places in New Zealand, must be a top priority in land transport spending. Under this government though, that looks unlikely.
There have been too many years of under-investment in state highway spending. The snail's pace of progress suggests we are going to be Aotea-road-cone for many years to come.