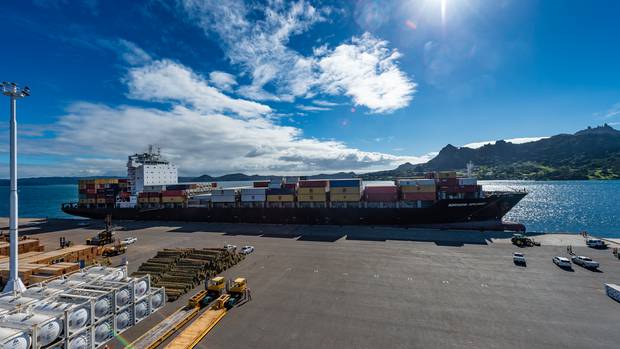 The MSC ship, Northern Diplomat, took the first kiwifruit harvest from Northport earlier this year. Now the trial export service has been a permanent addition to the port's schedule.
A double dose of good news has Northland's deepwater port Northport buzzing, with expanded coastal shipping services locked in and a trial kiwifruit export service now operating year-round and taking other export products.
Northport chief executive Jon Moore said a seasonal trial of a port call at Northport by a global shipping giant has become a permanent, year-round service.
MSC (Mediterranean Shipping Company) has announced it is making the fortnightly port call at Northport by its Kiwi Express service a fixed part of its international schedule. The move will improve access to international markets for Northland's exporters and importers.
A trial, which started in May and was planned to run until the end of the kiwifruit season in late August, has brought a ship to Northport every two weeks to load Zespri kiwifruit and other locally grown produce.
But the year-round service means other Northland exports can use it. The kiwifruit service alone was expected to take more than 500 truck and trailer trips off the road south of Marsden Pt.
Moore said that as well Pacifica Shipping had also confirmed it was expanding its coastal shipping service between Northport and ports further south, including into the South Island.
He said this opened up new opportunities for Northland businesses to get their products to elsewhere in the country without the need for them to be transported by road south of Marsden Pt, which would save costs and also mean less trucks on the roads.
"A port is a facilitator and we don't drive any of this, but we can facilitate it well and if we didn't have a port we wouldn't be able to do any of this," he said.
"The two announcements) have the potential to really help business grow in Northland and it's now up to the business community to help grow this service by using it."
General manager of MSC New Zealand Steve Wright said the company was delighted to add Northport as a year-round call on the Kiwi Express.
"It is a noticeable and important inclusion for all exporters and importers in the Northland region, as they now have direct access to all international markets for their cargo."
Northland Inc chief executive officer David Wilson said the move was a really good sign.
"It's showing confidence in the Northland economy."
He said the move "just makes complete sense" and makes it a lot easier for Northland businesses to directly reach international markets.
"The cost of freight and logistics is an important component in any exporter's product offering."
Kerikeri-based grower, coolstore and packhouse operator Alan Thompson thought the move from a trial service to a permanent one was good and he hoped others would make use of it year-round.
Before the trial, kiwifruit was trucked from Kerikeri to Auckland before being loaded on to rail and taken to the Port of Tauranga for export.
Thompson said the cost to get one pallet of kiwifruit from Kerikeri to the Bay of Plenty is about $102. To load that same pallet at Marsden Point cost about $36, a saving of $66.
Moore was thrilled the service had been extended.
"The move is the result of months of hard work and relationship building by many people and organisations around our region. It reinforces what those of us who call Northland home already know, there is significant potential for economic growth here.
"We encourage any and all Northland importers and exporters, regardless of what sector they operate in, to use this service. We are hopeful that, given sufficient support, it could potentially become a weekly call."