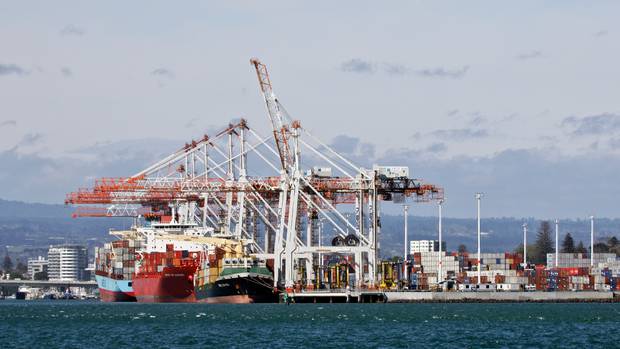 By: Jean BellJean is a multimedia journalist for the Bay of Plenty Timesjean.bell@nzme.co.nzbay_times
Tauranga's port will continue to "flourish" regardless of whether Auckland's port moves, city leaders say.
But some warned infrastructure investment was needed to make that happen.
The comments come as the Government is poised to make a big call on whether or not to shift Auckland's port to the economically-deprived region of Northland.
It followed New Zealand First leader Winston Peters vowing to move Ports of Auckland up north in 2017 and a Labour-led coalition Government leading a study into the three Upper North Island ports with a focus on moving Ports of Auckland to Northport at Marsden Point.
An interim report on that study by a working group headed by Wayne Brown, a former Far North mayor, had been provided to ministers and was due to go to Cabinet shortly.
Ports of Tauranga chief executive Mark Cairns said nobody had seen the recommendations yet, but he believed Tauranga's port would continue to perform well whatever the outcome was.
He believed the port's strong growth would continue due to Tauranga's location as the origin of a majority of the goods exported out of the port are located south of Auckland, not north.
The port owned a half share of Northport, he said.
Tauranga mayor Greg Brownless said if the shift happened, it would not happen for some time.
Tauranga's port would become busier if it did, due to its good reputation throughout Australasia, he said.
He did not think any increase in activity at the port would be short-lived as it had the capacity for double the number of containers currently moved there.
Congestion caused by inadequate roading would become an issue if Tauranga's port did get busier, so investment into the city's state highway, roading and rail network would be vital to cater for any increased freight activity around the city, he said.
He said the port would need to ensure the benefit would be shared with the community.
Bay of Plenty Regional Council regional transport committee chairman Stuart Crosby said it was too early guess what the impact would be, but he was confident Tauranga's port would continue to operate successfully regardless of what happened up north.
"We have the best operating port in Australasia and it will continue to flourish in the future."
The Government, however, did need to invest "billions of dollars" in infrastructure to keep up with the port's development.